The 18thInternational Conference on Environmental Science and Technology (CEST) took place between 30 August and 2 September 2023 in Athens, Greece. Dynamic Vision, a partner of the Innovative Sustainable Economy Mission, participated in the event with a presentation of the Thematic Community project "Community4Innovation".
The presentation took place during the Session "EU Projects Showcase: Sharing Results for a Sustainable Future". This session was dedicated to cutting-edge environmental research and innovation, represented by various EU-funded projects (HORIZON, Interreg, ERASMUS+, PRIMA, ENI CBC MED, LIFE etc) from all fields of environmental science and technology.
CEST is a prominent environmental conference that brings together leading experts, scientists, entrepreneurs, public administration representatives, and social initiative advocates to discuss and advance solutions for current and emerging environmental issues.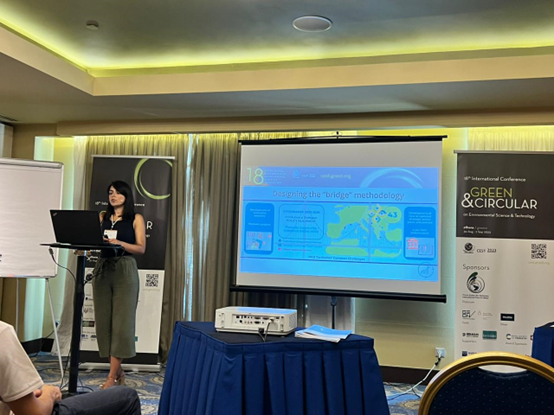 This year's edition attracted more than 500 delegates from all over the world counting 300 participants in person and more than 200 participants online. The CEST2023 programme included 47 sessions running in 5 parallel rooms with 332 oral, 85 flash and 65 poster presentations, covering 28 scientific topics under the following 12 thematic areas, like water and wastewater treatment and reuse; environmental citizen science; circular economy and bioeconomy or Environmental health and well-being
The participants also had access to networking and expo areas throughout the conference. The organizers compiled the abstracts presented at the conference on a book available here. For more information about CEST and updates on future events, you can visit CEST Conference website.